August: Cathy Smith Motivational Memes for the Modern Melee
Contact Artist Cathy Smith:cathy smith <cathy.smith.art@gmail.com>
Corbid Colony
Mixed media installation
2018
$350 each, $1,600 the set
My Marxist feminist Dialectic
Mixed media on canvas
2018
$120
Modified from post on Facebook site, Philosophy Matters
Easter Island Inspirational 2
copies for sale  A4 $25, A3 $35
Based on Cathy Smith photo,  text from post on Facebook site, Empty and Meaningless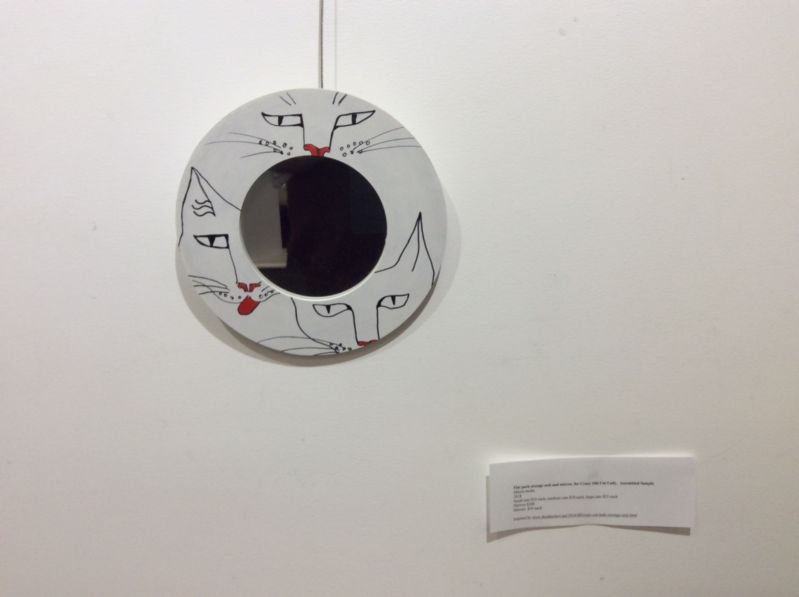 Ikea Flat Pack Storage Unit and Mirror, for Crazy Old Cat Lady. Assembled Sample
Admission 1
Mixed media on canvas 2018
$150
Inspired by image from www.languageties.com
Dark Humour
Collage on canvas  2018
$120
Modified from http://www.olaughingpress.org/2011/01/dark-humornot-everyone-gets-it.html
Oh Brad 1
Oh Brad 1
Mixed media on canvas 2018
$250
Developed from ideas in
post from Facebook site, Philosophy Matters
various 1960's paintings by Roy Lichtenstein
Crow in a red soil paddock
Mixed media on cardboard
2013
$300
sunrise poem
Digital Print
copies for sale  A4 $25, A3 $35
Photo and text by Cathy Smith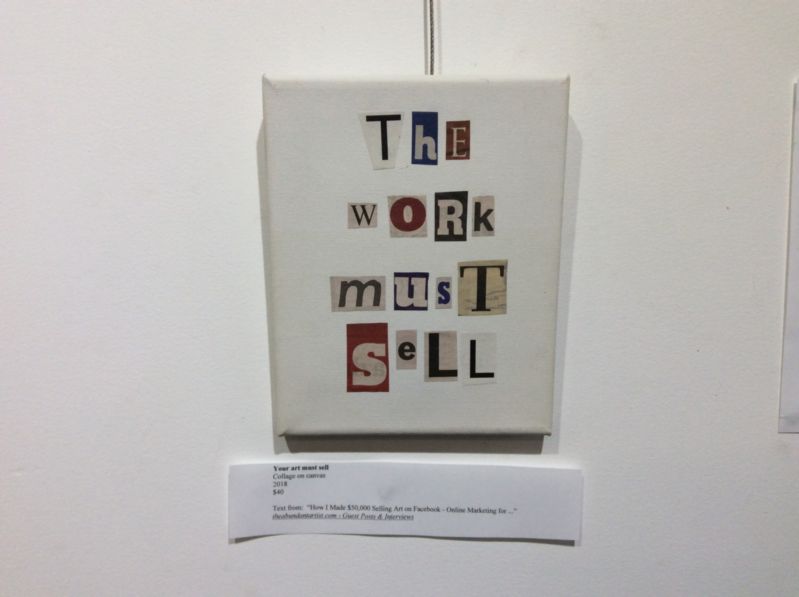 Motivational Meme 2( near Glencoe)
Digital Print
copies for sale  A4 $25, A3 $35
Photo from pexels.com, text by Cathy Smith
Ikea Flat Pack Storage Unit and Mirror, for Crazy Old Cat Lady. Assembled Sample( 2)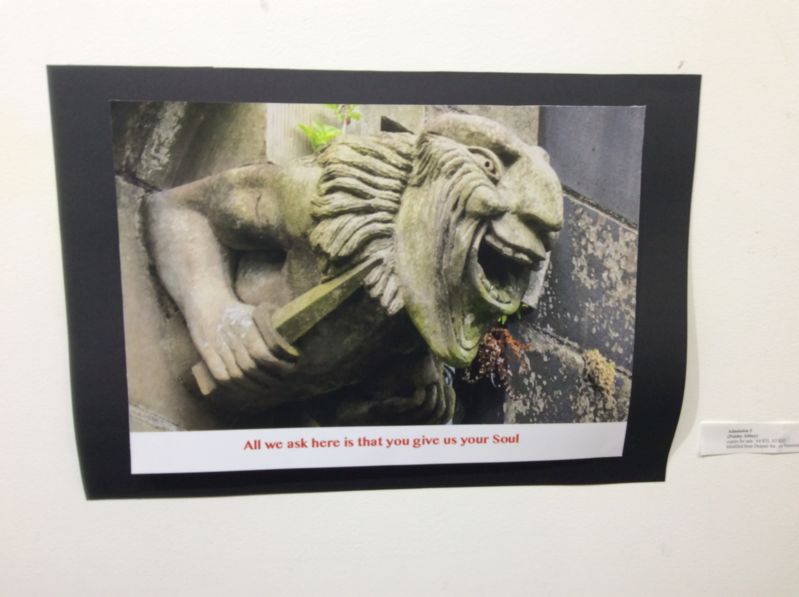 Admission 3
(Paisley Abbey)
Digital Print
copies for sale  A4 $25, A3 $35
Modified from Despair Inc. on Pinterest, www.bbc.com/news/uk-scotland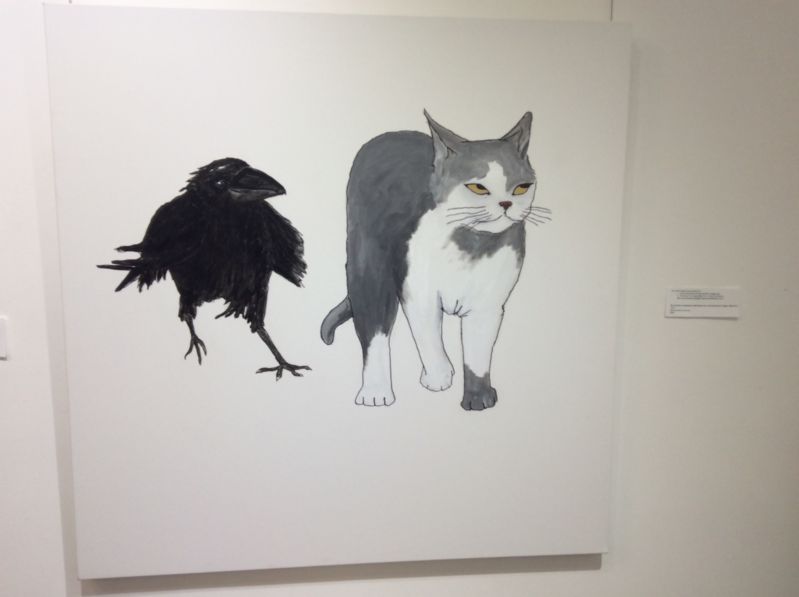 Do you have a moment to talkabout our lord and Savior, Edgar Allen Poe
2018
Mixed media on canvas
$800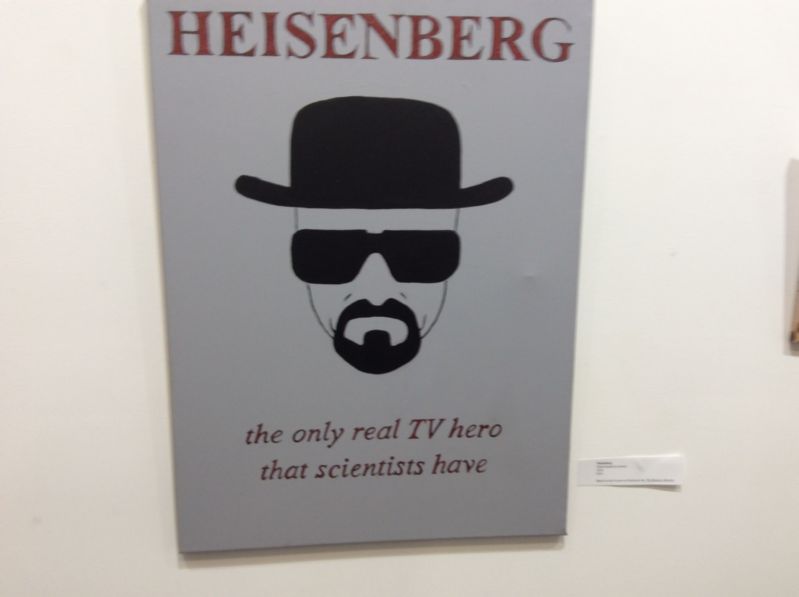 Heisenberg
Mixed media on canvas  2018
$350
Based on text in post on Facebook site, The Betoota Advocate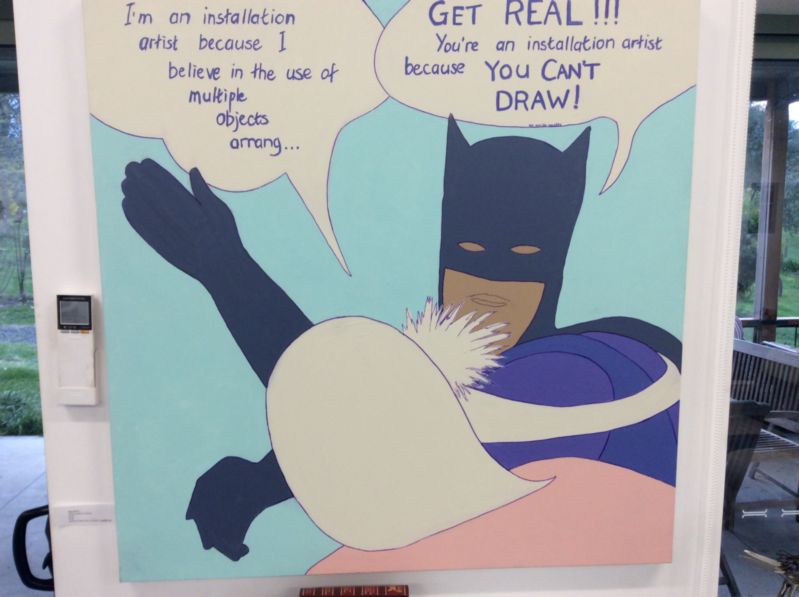 slapdown
Mixed media on canvas
2018
$500
Based on Slap meme template  imgflip.com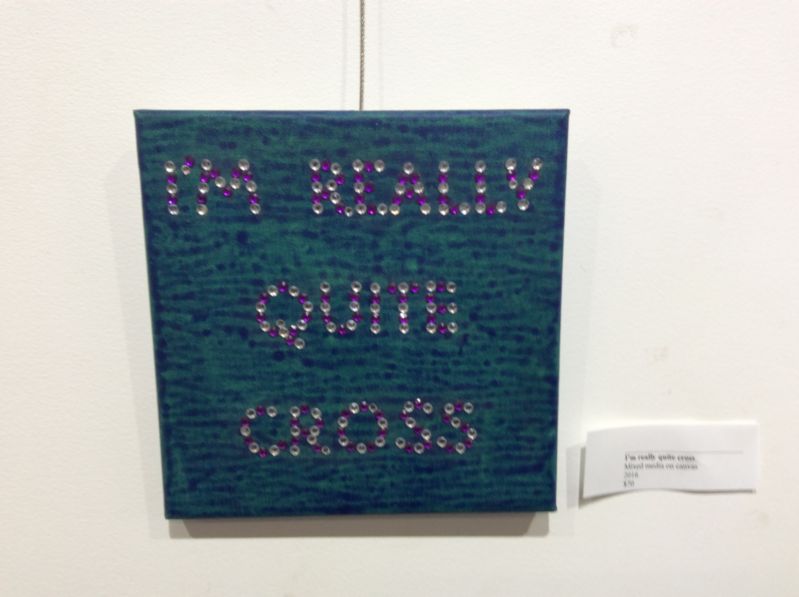 I'm really quite cross
Mixed media on canvas    2016
$70
Inspired by signs carried during the Women's March, London, January 2016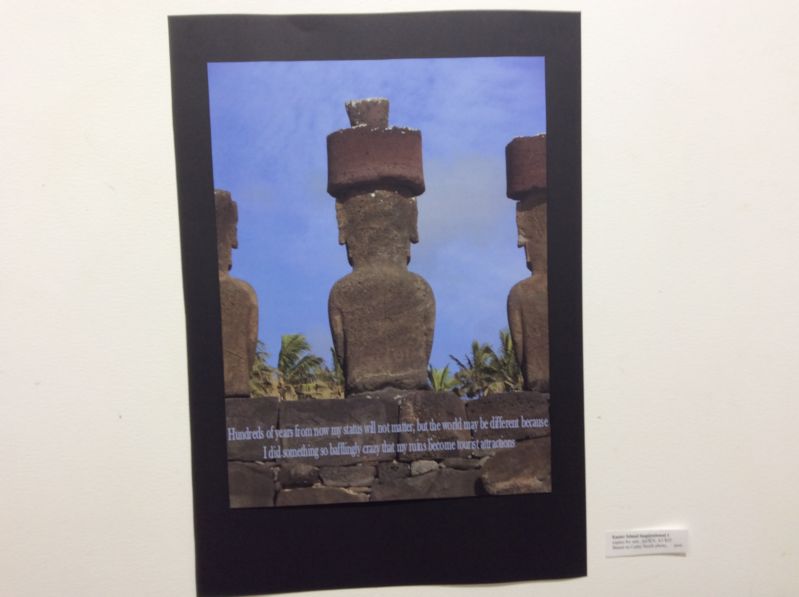 Easter Island Inspirational 1
copies for sale  A4 $25, A3 $35
Based on Cathy Smith photo,  text from post on Facebook site, Empty and Meaningless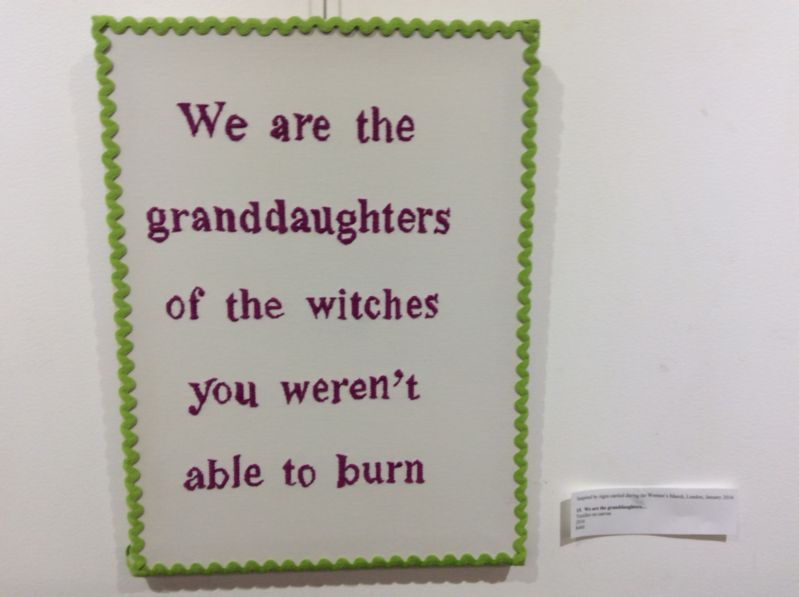 We are the Granddaughters...
Textiles on canvas  2016
$400
 Inspired by signs carried during the Women's March, London, January 2016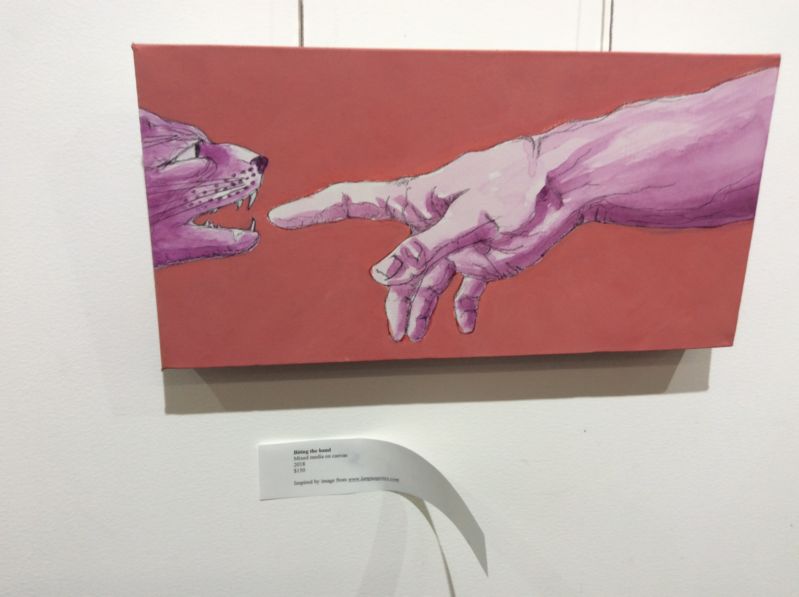 Biting the hand
Mixed media on canvas 2018
$150
Inspired by image from www.languageties.com
Admission 2
copies for sale  A4 $25, A3 $35
Modified from Despair Inc. on Pinterest, pixabay.com/en/photos/mayan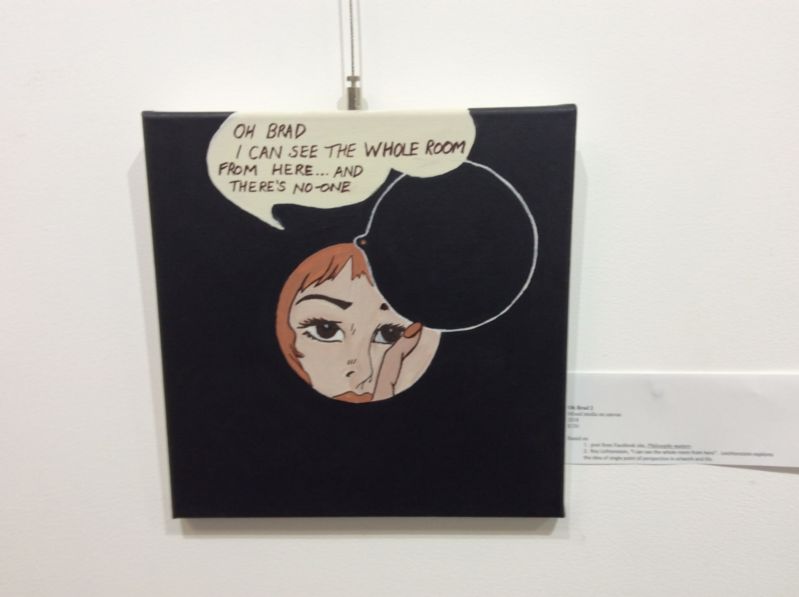 Oh Brad 2
Mixed media on canvas  2018
$150
Based on
post from Facebook site, Philosophy matters
Roy Lichtenstein, "I can see the whole room from here". Leichtenstein explores the idea of single point of perspective in artwork and life
solistice sunrise drouin west
Digital Print
copies for sale  A4 $25, A3 $35
Photo and text by Cathy Smith
a murder of crows
2018
Ceramic on wood stand
$85 each, $450
Artist's Statement
The 2 and 3 dimensional work in this show is based on images shamelessly sourced from Facebook.
These have been copied, altered, or rifted upon, to explore our involvement with the Internet.  Unlike earlier generations who even 20 years ago searched texts and libraries for facts, finding serendipitous information and broadening knowledge on the way, we now turn to our screens for contact, communication and information. We often type in a question and receive a brief and very specific answer, without wider context, and with the ever present possibility of 'fake news' or 'fake facts.'
We have embraced a world of friending and private groups, jokes, memes and uplifting quotations.  From the solitude of our own room, we share experiences, emotions, and support with those we've never met, via uplifting platitudes, sentimental quotations and pictures of cute animals.