Sylvia Dardha and Buddha Hands Playgroup
Scheduled
seventeen Uncategorized
Contact Artist: 0000 0000 | info@email.com.au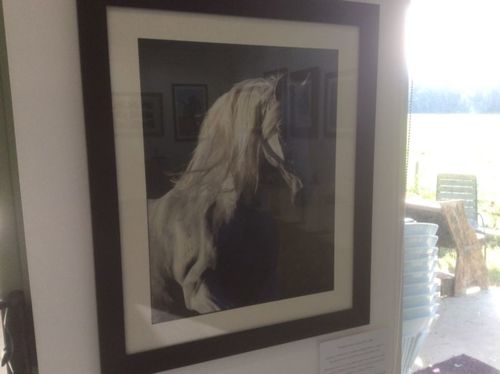 at home - 2017
$200
Sylvia – The artist
These pieces were so much fun to paint. I thoroughly enjoyed them because they weren't anything other than something I wanted to paint. I loved it and found I really like painting on paper too. Inspired by one of my most favourite artists, David Hockney. These artworks are purely from the heart and painted with no expectations.
It was a nest Saige - 2017 (SOLD)
Saige – 4 years old
Saige was the first little person artwork to be done. The canvas was as big as she was. And this was really embraced by Saige. She was able to do big long sweeping arms and circles. It was a very meditative piece, for Saige and us watching her doing it. We had no idea what was going to come about, but every stage of this artwork has been really lovely. It was the most time consuming piece the finish, as it was like painting a huge zentangle. Again I paint very intuitively so there was no preconceived ideas about how this artwork would turn out right to the very last minute at 1.30am Thursday morning. I still had no idea how this was going to work out in the end I managed to maintain its tranquil yet whirlwind energy in the piece.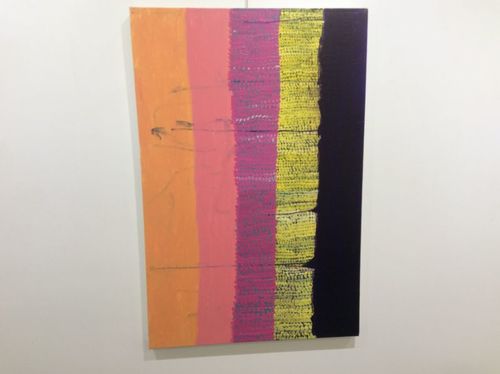 onion layers - 2017
$500
Sylvia – The artist
The art piece that got the ball rolling. This would be the first piece that started the creative forces going for this particular exhibition. Inspired by indigenous artist Wawirya Burton, with her amazing dot paintings that are so vibrant and textural. This painting represents the peeling of the layers artists sometimes need to do to begin a new creative journey. Theo started with some drawings, that can be seen under the colours, and helped paint the layers.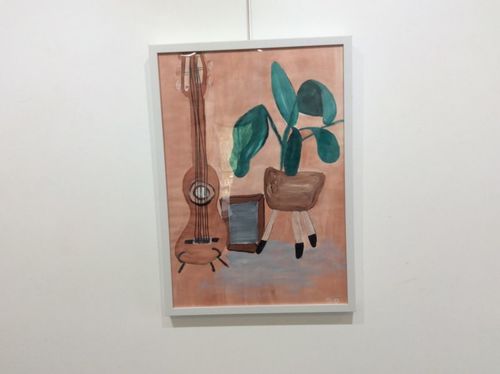 at home 2 - 2017
$200
Sylvia – The artist
Again these pieces were a joy to paint because they were just something that I wanted to paint without any expectations and what I really enjoy doing. With inspiration from David Hockey, I personally love the colour palettes and the mid century feel to his earlier works and so I wanted to enjoy just going with that.
Michaels birthday - 2017 (SOLD)
Keenan – 10 years old
This is a piece from a couple of years back, that got me excited about collaborating with children. Drawn by my eldest son, Keenan. This was a birthday present for my partner, Michael. Keenan is a fantastic illustrator so I really loved how this piece worked out and have tried to encourage it more. It is certainly a special piece and one I hope inspires others to get painting with their children too!
the power of feminine thought - 2017
$50 each
Sylvia – The artist
These gorgeous mummas were another artwork in my head that I just wanted to put on paper, and enjoyed doing it without expectations. During a reiki session on a client a symbol came through to me, that I passed on to the client and then used them in these drawings also. These are the healing symbols for 'the power of feminine thought'.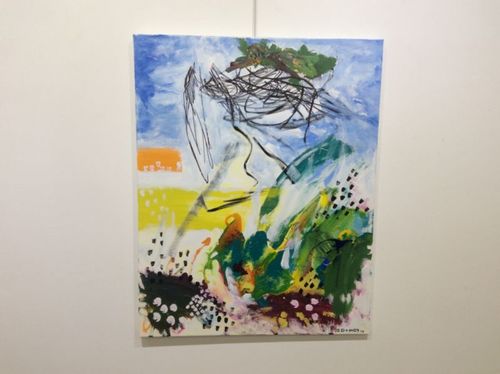 down at the park - 2017
$300
Indy – 28 months old
This piece was done in collaboration with Indy. Indy did some drawings and then used the paints being more drawn to vibrant colours in this artwork I saw an inspiration from Australian artist, Ken Done. Vibrant colours mixed with sketchy drawings, dots and doodling. Indy's pen drawing looked a lot like a birds nest,
and so the piece became a Ken Done inspired artwork of two birds in a nest overlooking a busy park below.
Mums aura - 2017
$1000
Theodore – 3 years old
This piece was done with my youngest son, Theo. Theo actually does enjoy painting and drawing. But like most toddlers, cooperation isn't always a strong point. Theo did some impressive theatrical drawings in the beginning, nothing that could have been possible painted in though. But watching him was very entertaining.
The canvas sat there for some time before I was able to prompt him with some acrylic paint pouring. This of course he really enjoyed and once the painting began, the piece came together really nicely. You can see the firey poured paint in the centre which sums up Theo's character very well. Then the soft soothing colours around it, which was my contribution like the mother coming in to soothe and pacify the firey toddler flames. Not enough to smother the fire, but enough to contain them.
we had to use a map - 2017
$300
Cedric – 20 months old
This piece was done with Cedric, who really took to the painting. As I watched Cedric I followed his lead to the colours he was more drawn to, and as a result we ended up with a beautiful abstract landscape. For me I saw lots of inspiration from John Olsen, with the colour coded landscapes matched with the lines and landmarks of a map. When I saw this on the canvas and in my head, the words 'we had to use the map' came to me. As Cedric's mother explained to me how they couldn't find my home, when they had to meet me to do the artwork.
So I knew that that was the way to finish the piece.